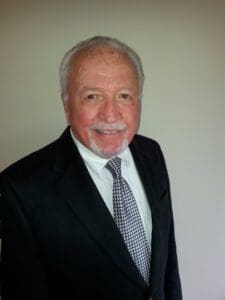 Senior Director of Sales 
Welsch Aviation, Inc.
447 Carlisle Drive
Suite 202
Herndon, VA 20170
703-787-8800 Office
703-606-6446 Cell
---
Ken's aviation experience spans over 55 years as a pilot, broker and appraiser. After graduating from Colgate University, he entered the United States Air Force where he spent five years as a supersonic jet fighter and Strategic Air Command pilot. He spent another 8 years as a pilot in the Air Force Reserve. Ken has flown over 7000 hours total time in 28 jet, turbo prop and reciprocating aircraft.
After leaving the Air Force, Ken became a registered representative of the New York Stock exchange for Paine Weber Jackson and Curtis. He then joined Shell Oil Co. as a regional manager of Aircraft Products Northeast, U.S. Following that, Ken joined Flight Safety Intl. to run their FBO and Flight Training Center at Republic Aircraft's field on Long Island. In 1966, he was recruited by Airesearch Aviation to market their new distributorship of Merlin aircraft and was actively involved in their distributorships and service centers for the HS 125, the Gulfstream and the Dassault Falcon
In 1970 the Merlin factory (Swearingen) was sold to Fairchild and Ken was offered the position as Northeast and Midwest Manager for Learjet sales (1/2 the U.S.). In 1973 he left Learjet to assume the position of General Manager and Director of Beechcraft East at Republic Airport in Farmingdale, Long Island, after Beechcraft cancelled their distributorship with Atlantic Aviation. He was responsible for marketing the entire Beechcraft product line in the Northeastern U.S. (including the HS 125). He started the facility from scratch and built it to 65 employees.
In 1976 Hawker Siddeley (later British Aerospace) offered Ken the regional manager's position for the Northeastern U.S. He accepted and subsequently was rated in the HS 125. In 1981 he was promoted to Director of Sales for North America and moved from New York to Washington D.C.  Ken was asked to join JB&A Aviation as a sales associate in 1984. A year later he was offered a partnership in Welsch Aviation. He has been with Welsch for 30 years.